Your own branded gym app
in just 5 minutes
Fitnexus is the world's fastest-growing custom-branded app provider for gyms, studios and health clubs. In just five minutes, we'll have you up and running with a powerful, engaging, own-branded mobile app that boasts all the features your members are looking for, both in and out of your club. Even better, it requires minimal input from you: you can be as hands-on or hands-off as you like.
Welcome to the hybrid model made really, really easy.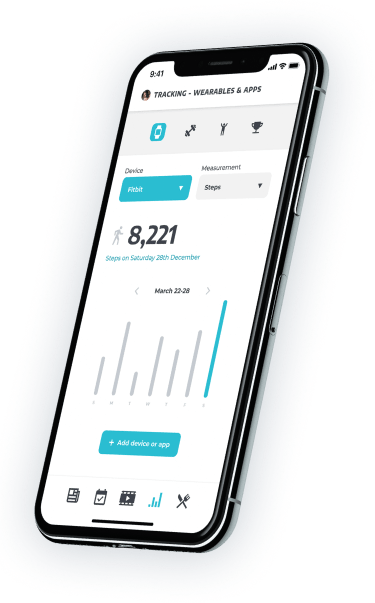 What you can achieve with Fitnexus as a gym or fitness studio owner
Own the member experience
Your Fitnexus app comes fully customised to your club's unique style – including branding and colours – so the entire member journey, both in and out of your club, is delivered under your brand. Whatever their fitness needs, members never have to leave your ecosystem.
Play with colors right now:
Tracking - wearables & apps
3,221
Steps on Saturday 28th December
The hybrid model made easy (and affordable)
Why fitnexus will tick
all your boxes – and more
Up and running in no time

We know you need your app… well, yesterday. And that's fine, because we've built our platform in such a way that your app can be created in five minutes and submitted to the stores (Apple and Google) within the hour.

Premium experience, affordable price

Your app will include all the 24/7 features your members are looking for: on-demand fitness, activity tracking, class booking and far more besides. It's a premium, community- and loyalty-building experience, all delivered for an unbeatable price.

Grow your community

Word of mouth is always a powerful marketing tool. With your new app, members will be able to refer friends and family at the touch of a button.
Remotely create gym programmes for members individually and collectively
Push notifications
on demand
Keep in touch
It's good to talk, so our app allows for both personal messaging and push notifications – instant alerts that go direct to members' mobile devices. Members will be notified whenever a new benefit is launched, too. After all, everyone loves a special offer!
In-app and desktop admin controls
Staff who have been allocated an admin account can make changes to the aesthetic scheme of the app, add and edit users, update the club notice board and more.
Easy to setup
Easy to use
Fits your CRM perfectly

Fitnexus comes ready integrated with your club's CRM system – whatever system you have in place – so the whole process is seamless. All you have to do is link your class booking to the app and you're good to go.

Hassle-free content

With our app, you can be as hands-on or hands-off as you like. Want to create and share your own programmes for individual members or your whole community? We'll host that for you. Want to outsource content so you can focus on your in-club operations? That's also fine, with a huge on-demand library pre-loaded into the app.

We're here for you

You can leave the reliability and functionality of the app to us. But if you have questions at any point, we're here to help, with a support team on-hand every step of the way.

No need to be a techie

Our development team is constantly maintaining Fitnexus. Updates – unobtrusively done behind the scenes and only launched after rigorous testing – automatically roll out to every active app user. You never have to worry about working on the app yourself.

Automated reports

Looking for more insight into your member behaviour? Your new app will collect member fitness tracking data, collate it into reports and automatically send these to all your admins.

Admin made easy

We know you'll want to keep your club noticeboard regularly updated, so we've made it simple. In-app and desktop admin controls allow any staff member with an admin account to update the noticeboard, as well as doing things like adding/editing users and tweaking app aesthetics.
Your Club
In the palm of members' hands
why your members will love fitnexus
(without even realising it!)
In a world where fitness is available at the touch of a button, gyms, studios and health clubs have to work smarter to retain member loyalty. That's where we come in… although of course, your members will think it's all you!
Class bookings
In just a few clicks, your members will be able to book into their favourite classes. With a Premium upgrade, they can even book up to 40 days in advance – the first pick of class slots as soon as they become available.
On-demand workouts
Members will be spoilt for home workout choice, with an extensive library of over 1,000 expert-led virtual classes. There's something for everyone – yoga, pilates, strength, abs, cardio, HIIT and more besides – with new classes added every month. Members can even create their own weekly schedule of on-demand classes to do any time, anywhere
Healthy eating
Every one of the 250,000 healthy recipes pre-loaded in the app comes with full cooking instructions and nutritional information. But that's not all: members can add the recipes to their personal meal planner, which then calculates daily and weekly nutrition. With new recipes added every day, healthy eating need never feel repetitive.
Workout tracking
Connected to editable fitness programmes and wearable devices, providing on-going and live performance data for their programme.
Challenges
Staying motivated is key to achieving results, and that's where our monthly fitness challenges come in. Easy to join – pick a challenge, add yourself and the app will keep track of your progress towards the goal – these are a great way for members to spur themselves on to even greater achievements.
Training plans
Alongside the classes are 1000s of ready-made workout programmes for the gym, home or local park, created by top global PTs and refreshed on a weekly basis. Many plans can be edited around individual needs; members can also use the exercise video library to create their own programmes.
Progress tracking
There's nothing like seeing proof of progress to inspire you to keep going with your training. Exercise tracking is therefore a big part of our app, allowing your members to set goals, link the programme they're following and connect with wearables or other apps for live and ongoing performance data.
our clients say
Fitnexus is the product I didn't know I needed until I had it. This app has enriched the lives of my members and made my job as a club manager so much easier through its intelligent communications systems. I could not recommend this system more.
Club Owner
Fitnexus is immaculate. It sits silently in the background, requiring absolutely nothing from me. In fact, the only time I hear about it is when one of my club members tells me how it's enhancing their time in my facility and helping them stay on-track
Club Owner
The Fitnexus app is taking our business to the next level. It provides our members with invaluable data and essentially allows them to self-manage, at the same time eliminating paperwork in the club. The app pays for itself.
Club Owner
Still have questions?
Drop us a message here and we'll come back to you asap!